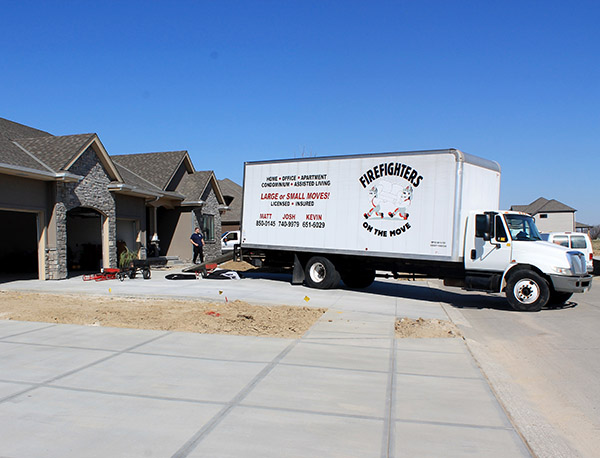 Firefighters on the Move can help you with a partial or full service move. We treat your belongings as if they were our own. Wood items, leather, glass, pictures, televisions and other delicates are padded with the highest quality moving blankets and secured safely in our specially built trucks for transport. We will take apart beds, break down sectionals, disassemble cribs, gaming tables and workout equipment and reassemble them at your new residence, at no additional cost. Firefighters on the Move will disconnect refrigerator water lines and washer and dryer hookup and reconnect them upon request. We have the experience, equipment and capability to move you from any size home, apartment, town home or condominium on time and at competitive rates.
Moving your office or business can be an overwhelming task. Heavy desks, file cabinets, bookcases, conference tables, copy machines, and computers require appropriate manpower and equipment to get the job done. Firefighters on the Move has the resources and experience to make sure your office or business is up and running in no time. Let us take care of the move, so you can take care of your business!
Firefighters on the Move is fully licensed and insured for your upcoming long distance move. We can move you anywhere across Nebraska, the Midwest or even to the other side of the United States. Unlike other moving companies, Firefighters on the Move will handle your complete move from start to finish. Our crew will load your belongings, transport them, and unload them at your new residence or office. Firefighters on the Move…we're in it for the long haul!
Are you or your loved ones moving to a retirement community or an assisted living home? Our polite and friendly employees will help you every step of the way. We offer a wide variety of services to make the transition as easy as possible.
4 Simple Tips for Seniors Who are Moving
Ask for help! Have a friend of family member assist you with preparing for your move. Remember, Firefighters on the Move offers packing services if needed.
Coordinate moving procedures with your senior community prior to the move day.
Keep important prescriptions and medical documents unpacked and accessible.
Make arrangements for extra storage space just in case.
Fire Fighters on the Move is happy to partner with Kellie's Moving solutions. KMS specializes in all your downsizing and senior relocation needs. Contact Kellie at (402) 639-7233 or visit www.kelliesmovingsolutions.com ​to learn more!
Firefighters on the Move specializes in moving heavy items. Whether you are moving a Spinet, Console, Studio, Professional, Baby Grand, Medium Grand, Ballroom Grand, or Concert Grand, we have skilled, professional piano movers and the essential equipment to handle these extremely heavy loads.
With weights of 400-1200lbs, moving gun safes can be dangerous for any homeowner to take on. Firefighters on the Move will provide the appropriate number of movers combined with the heavy duty equipment required for these unique items. We can pick up your gun safe at the place of purchase and deliver it to your home as well.
Moving long distance, moving to the area or making room for new items? Firefighters on the Move will professionally load and/or unload your rental truck, trailer or storage container. We will prepare your furniture and contents for a long trip or extended storage then secure it as best we can. Just a reminder, these trucks and storage containers are rough on your belongings. Fragile items should be packed with caution into boxes with sufficient padding in order to withstand the trip.
Let us take the stress off your shoulders. Firefighters on the Move provides exceptional packing services. When you do not have the time or availability to pack the contents of your home. We typically pack the day prior to your move and provide boxes, tape, bubble wrap, packing paper, identifying markers and plastic wrap to prepare your belongings for your move the following day.